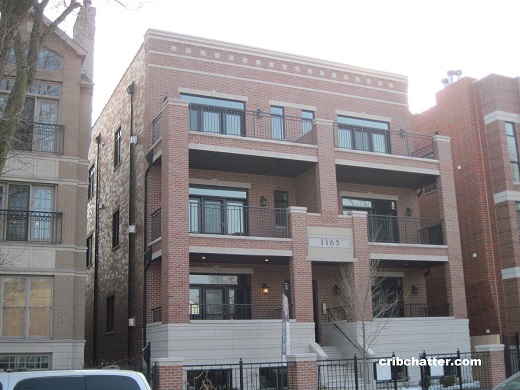 This new construction 6-flat at 1165 W. Eddy in Lakeview just came on the market.
Last week, Crain's discussed the teardown and new construction phenomena in Chicago. Over the last 5 years, Lakeview was the most popular neighborhood for teardowns in the city.
On the 3700 block of North Greenview Avenue, construction is under way on a house with five bedrooms, five baths and a rooftop deck. It will replace a humble two-bedroom, one-bath cottage that was there for 125 years before it was demolished last fall.

It's a familiar transition in Lakeview. In the past five years, nearly 300 older residential buildings in the neighborhood have been torn down and replaced with new homes, according to data compiled by Chicago Cityscape, which tracks building-industry permits in the city.

Lakeview is the epicenter of teardowns in the city, with more than twice the number in the second-ranked neighborhood, North Center. There, 124 residential buildings were torn down to make way for new homes from 2011 through 2015.
But it's not just single family homes that are being built, it's also 3-flat and 6-flat buildings like this one at 1165 W. Eddy.
In 2011, we actually chattered about the 1893 2-bedroom Victorian house that was on one of the lots at 1167 W. Eddy.
You can see that chatter here.
In 2011, that house, which was on a standard city lot, sold for $493,000.
In 2016, it, and the lot next door, are now 6 luxury condominiums with these price points:
#1E: 4 bedrooms, 2.5 baths, duplex down, $899,900
#1W: 4 bedrooms, 2.5 baths, duplex down, $899,900– contingent
#2E: 2 bedrooms, 2 baths, $559,900– contingent
#2W: 2 bedrooms, 2 baths, $559,900
#3E: doesn't appear to be on the market
#3W: 2 bedrooms, 2 baths, $679,900
At least 2 of the 6 units are already under contract.
The units have Subzero and Wolf appliances, natural stone bathrooms and custom millwork.
Each unit has a large front balcony. The top floor units have private rooftop decks. Each unit comes with 1-car parking in the garage.
As was the case in 2011, this is still your view across the street:
During the housing bust, we often discussed who it would be that would buy up all the 2/2 condos that were built in the boom that were listed at $400,000.
The $400,000 price point now seems quaint, even in Lakeview and Bucktown.
No 2/2s are being built new construction at that price. They are all "luxury" and priced over $500,000.
Who's buying a 1450 square feet 2-bedroom in Lakeview near Wrigley Field for $679,900?
Has a new type of buyer emerged in Lakeview?
Has the era of 27-year old newlyweds buying their first condo while still going to Southport or Wrigleyville bars passed?
Brian Henderson at Jameson Sotheby's has all the listings. You can see the interior pictures here.
Unit #3W: 2 bedrooms, 2 baths, 1450 square feet, penthouse
New construction
Currently listed at $679,900 (includes 1-garage parking space)
Assessments of $125 a month (includes water, common insurance)
Taxes are "new"
Central Air
Washer/dryer in the unit
Bedroom #1: 15×12
Bedroom #2: 12×10
Private rooftop deck