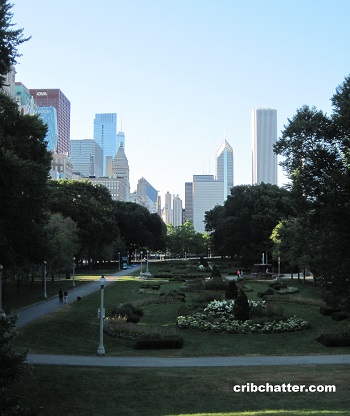 As we already knew, things are hot, hot, hot.
I know this "news" is from last week, but it's our duty to chatter about the monthly sales numbers so here it is.
From the Illinois Association of Realtors:
The city of Chicago saw a 7.9 percent year-over-year home sales increase in April 2016 with 2,628 sales, up from 2,435 in April 2015. The median price of a home in the city of Chicago in April 2016 was $287,500, up 6.0 percent compared to April 2015 when it was $271,325.
Here are the sales statistics for April since 2007:
2007: 2419 sales
2008: 1886 sales
2009: 1407 sales
2010: 1984 sales
2011: 1466 sales
2012: 1816 sales
2013: 2392 sales
2014: 2256 sales
2015:  2435 sales
2016: 2628 sales
Here are the median prices:
2007: $289,800
2008: $300,000
2009: $218,000
2010: $225,000
2011: $169,000
2012: $184,400 (IAR says it was $182,000 but I have $184,400 from last year's data)
2013: $223,500
2014: $250,000
2015: $271,325
2016: $287,500
"After posting only modest sales gains in March, Chicago saw in April a return to what would be expected in a market marked by high consumer demand," said Dan Wagner, president of the Chicago Association of REALTORS® and senior vice president for government relations at the Oakbrook-based Inland Real Estate Group of Companies, Inc. "It's taking 47 days on average to sell a home, which is a breathtaking pace and shows why inventories have plummeted once again."
"Any suggestion the state's housing market was beginning to slow appears to have been premature," said Illinois REALTORS® President Mike Drews, GRI, broker-associate with Charles B. Doss Co. in Aurora. "A buyer can't dawdle in a market like this. Any delay can result in losing the home they want as there are so many other motivated buyers in this spring market."
Mortgage rates were about where they were last year at this time, so it's not lower rates that is pushing the buyers to jump in.
Are buyers afraid if they don't buy now they'll be priced out forever?
And will that "median" (which just means that a lot more luxury properties are selling)- finally reach new record highs this year?
April brings strong gains in Illinois home sales and prices [Illinois Association of Realtors, Press Release, May 20, 2016]