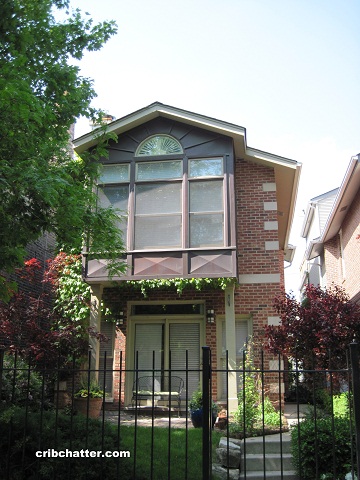 This 3-bedroom single family home at 1926 W. Potomac in Wicker Park came on the market in May 2016.
It went under contract in June, but came back on the market in July.
If it looks familiar to some long time readers, that's because we chattered about it in June 2011.
To refresh your memory, the house had been on the market almost a year at that point and had reduced $100,000 under the 2006 purchase price.
See our chatter here.
The house never sold.
But that was then and this is a now, in an entirely different market.
Built in 1990 on a 24×132 lot, the listing doesn't list the square footage but in 2011 it had 2564 square feet.
All 3 bedrooms are on the second floor with a den and a 300 square foot rooftop deck on the third floor.
It doesn't have a basement but instead has a family room on the main level.
There are skylights and a 2-story atrium.
The kitchen has stainless steel appliances and granite counter tops.
The house has central air and the listing says the 2-car garage is attached.
It  is located just a few blocks from Wicker Park and is centrally located near the shops and restaurants of Division Street and those of Milwaukee/North Avenue and Damen.
This time around, it listed at $915,000 and has reduced $20,000 to $895,000.
Is this a good townhouse or duplex down alternative for those looking under $1 million in this neighborhood?
Eric Newman at @Properties has the listing yet again. See the pictures and the floor plan here.
1926 W. Potomac: 3 bedrooms, 2.5 baths, 2 car garage, no square footage listed (but 2011 listing says it is 2564 square feet)
Sold in August 2004 for $685,000
Sold in April 2006 for $900,000
Originally listed in July 2010 for $819,900
Reduced
Was listed in June 2011 for $799,900
Withdrawn without a sale
Originally listed in May 2016 for $915,000
Reduced to $899,000
Under Contract in June 2016
Re-listed in July 2016
Reduced
Currently listed at $895,000
Taxes are now $15,630 (they were $12,108 in 2011)
 Central Air
Roof top deck: 300 square feet
Bedroom #1: 18×13 (second floor)
Bedroom #2: 13×13 (second floor)
Bedroom #3: 13×13 (second floor)
Den: 17×15 (third floor)
Family room: 15×14 (main floor)