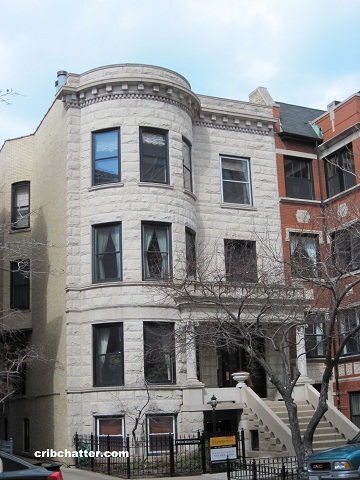 This vintage 4-bedroom at 434 W. Oakdale in East Lakeview came on the market last year in May 2016.
Built in 1891, the building has 4 units.
If it looks familiar, that's because we last chattered about it in 2011 when it was priced near the 1996 price. Back then, the agent admitted it needed a new kitchen and baths.
See our prior chatter here where many of you thought it needed $150,000 to $200,000 in work.
The current owner  has done a complete "gut renovation."
The vintage woodwork has all been painted white, including the coffered ceiling in the dining room.
The kitchen now has solid walnut cabinets, caesarstone countertops, a carrara marble backsplash and Wolf and Subzero appliances.
The bathrooms are now natural stone and the master bathroom has an oversized spa shower with heated flooring.
The living room's wood burning fireplace has a Nublado marble surround.
There's a private back deck and covered parking.
The unit also has central air and side-by-side washer/dryer.
In 2011, this was a 3-bedroom unit but it's now a 4-bedroom unit as it looks like they closed off the room next to the living room with frosted sliding doors.
After it sold in 2011 for $410,000,  just $10,000 above the 1996 price, I asked if someone got a deal on this property.
Icarus said:

"I guess if you had to pay $400K to buy this in 1996, and that was pre-bubble, then I'll agree with Chris that it is a fair price, but not a steal. Me thinks my $400K will be better spent elsewhere."

Jenny said:

"Seems like a very fair price to me considering the square footage and included parking. I think it has been overpriced going back as far as 1989."
You can see our chatter here.
Originally listed in May 2016 for $849,000, or 107% higher than the 2011 purchase price, this unit was reduced until it went under contract at $775,000.
It was then withdrawn, without closing.
It's now listed at $749,000.
I'll ask again:
Was the 2011 a deal for this amount of space and location?
And will this lower price get the deal done?
Jeff Lowe at Berkshire Hathaway KoenigRubloff now has the listing. See the pictures here.
Or you can see it in person at the Open House on Sunday, from 11 am to 1 pm.
Unit #2: 4 bedrooms, 3 baths, 2400 square feet, covered parking
Sold in May 1989 for $275,000
Sold in May 1991
Sold in September 1996 for $400,000
Sold in September 2005 for $675,000
Originally listed in April 2010 for $699,900
Reduced
Was listed in March 2011 as a "short sale" for $525,000
Reduced
Was listed in April 2011 for $499,900
Sold in October 2011 for $410,000
Originally listed in May 2016 for $849,000
Reduced
Under contract in November 2016 at $775,000
Withdrawn
Re-listed for $749,000
Assessments are still $389 (they were $389 a month in 2011)
Taxes are now $8890 (they were $9794 in 2011)
Central Air
Washer/Dryer in the unit
Bedroom #1: 14×14
Bedroom #2: 13×10
Bedroom #3: 14×13
Bedroom #4: 15×10
Dining room: 18×13
Laundry room: 8×4