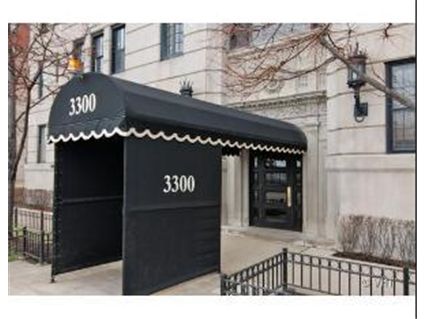 This vintage 3-bedroom in 3300 N. Lake Shore Drive in Lakeview just came on the market.
The building was constructed in 1920 and has 84 units but no parking garage. Its age makes it a "pre-war" building.
The unit has some of its vintage features intact including a barrel ceiling in the entry foyer and plaster crown molding.
The listing says it also has a cedar closet.
It has lake views from the living room.
One of the hallmarks of vintage units are the large bedrooms and 2 out of the 3 bedrooms here are larger than you'd find in any modern construction.
Two bedrooms also have en suite baths.
The kitchen has maple cabinets, granite counter tops and stainless steel appliances.
This unit also has in-unit washer/dryer, installed in the half bath. It's a rare feature in the building. Not all of the units have it.
There's no central air or parking, but the listing says there's a nearby indoor heated space available for $50,000.
Over the weekend, the New York Times had an article talking about how the pre-war "look" was out. Apparently, some home owners in New York City are stripping out vintage features, including crown molding, in the hope of modernizing these older units.
Millennials also "tend to be very conscious of the aesthetics and also the function" of finishes, said Jos Dudgeon, a principal of Tristate Sustainable, a general contractor in Manhattan. "Moldings, profiles, traditional cabinets — they're not really interested in that. They're really interested in something more modern and definitely more linear."

For starters, crown molding is out — "I find it tends to close in the space, especially when you're dealing with apartments," said Mr. Dudgeon — and baseboards are becoming flatter, permitting the eyes to look up rather than being drawn downward.

"That's definitely where you see a lot of the modern detailing," said Andrew Mikhael, an architect who has spent the past five months overhauling a co-op in Park South Tower, a 1927 building in the Kips Bay section of Manhattan, for Diego Gomez and Jeanne Haney, a couple in their 40s. Some baseboards are flush to the wall, Mr. Mikhael said, while others feature what is known as a "gap reveal," or "separation of wall and floor" that "creates a feeling that the wall is just floating."

Fireplaces, often a showstopper in prewar apartments, are also looking more streamlined these days, thanks to the replacement of bulkier old surrounds with sleek new Carrara marble or granite. These are simpler than intricate millwork or mantels, Mr. Dudgeon said, "because the proportion of the space becomes more important," say, for showcasing artwork.

And in an era when tidying up is a life-changing philosophy, the desire for built-in bookshelves and nooks for small items is waning. If clients request them at all, they'll be "very clean" with a lot of square edges, single-panel Shaker-style doors, and narrow edge trims, Mr. Dudgeon said.
Housing trends usually start on the coasts and take 3 to 5 years to make their way to Chicago.
Is the pre-war apartment, and even its newer construction cousin like 9 W Walton in the Gold Coast which has "vintage" features, on the way "out"?
Amy Morro at Baird & Warner has the listing. See the pictures here.
Unit #4C: 3 bedrooms, 2.5 baths, 1800 square feet
Sold in June 1998 for $190,000
Sold in December 2001 for $374,000
Sold in January 2005 for $460,000
Currently listed for $534,000
Assessments of $1056 a month (includes heat and scavenger)
Taxes of $7121
No central air
Washer/dryer in the unit
Heated garage parking is available nearby for $50,000
Bedroom #1: 17×13
Bedroom #2: 19×12
Bedroom #3: 10×8