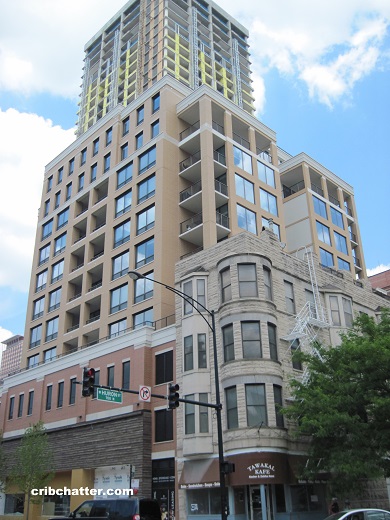 This 2-bedroom in the vintage mid-rise building at 164 W. Huron at the corner of Huron and Wells in River North just came on the market.
But if it looks familiar, that's because it sold as recently as August of last year.
A year ago, however, it was simply a large 1325 square foot 1-bedroom with 1.5 baths.
Now, it has come back on the market as a 1325 square foot 2 bedroom with 2 baths.
What happened?
Here are the rooms in the 2016 listing:
Bedroom: 25×13
Living room: 42×16
Dining room: 10×10
Kitchen: 12×8
Here are the current rooms:
Bedroom #1: 25×13
Bedroom #2: 10×10
Living room: 42×16
Dining room: 10×10
Kitchen: 12×8
But if you look at the pictures, you can see that the second bedroom has been carved out of the living room. So the living room size is most likely incorrect.
It also looks like the second full bath was carved out of the older half bath and washer/dryer closet. A stand-up shower was added there.
The unit has exposed brick walls which have been painted white. You can see the brick in last year's listing.
See that listing here.
The kitchen and other bath are unchanged from a year ago.
The kitchen has maple cabinets, stainless steel appliances, granite counter tops and a wood breakfast bar.
The unit has south and west exposures.
It has the other features buyers look for including central air and there is an exterior parking spot behind the building.
This vintage building, with 14 units, used to be in no-man's land but in the last several years a handful of new high rises have been built within one to two blocks. You can see the pictures of two of them in the picture above.
This unit has come back on the market just 9 months after its last sale for $109,000, or 30%, more.
Will they get the premium for the second bedroom and the shower?
Kevin Binkley at Dream Town has the listing. See the pictures here.
Or you can see it at the Open House today, Friday May 5 from 5:00 PM to 6:00 PM or on Saturday, May 6, from 1-3 PM.
Unit #2A: 2 bedrooms, 2 baths, 1325 square feet
Sold in November 2000 for $225,000
Sold in July 2004 for $289,500
Sold in February 2006 for $350,000
Sold in September 2012 for $255,000
Sold in August 2016 for $360,000
Currently listed for $469,000
Assessments of $322 a month (includes exterior maintenance, scavenger, snow removal)
Taxes of $5522
Central Air
Washer/Dryer in the unit
Parking space behind the building included