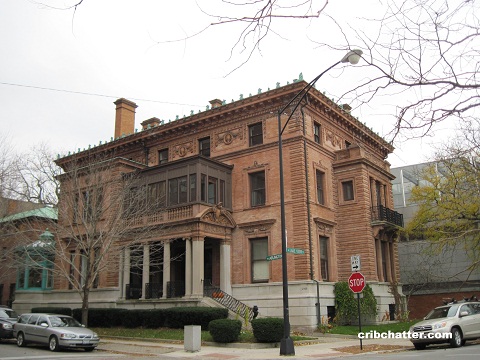 According to Crain's, one of the city's mansions just sold to an heir of the Thai Red Bull fortune.
They do not, apparently, have ties to Chicago.
The house, which sold on Oct 11 for $7.5 million, is on Bellevue in the Gold Coast. Originally listed for $9 million, it was reduced $1 million before selling.
It is, so far, the most expensive single family home sale of the year.
Read the Crain's coverage here.
But there are plenty of other expensive homes on the market.
In just Lincoln Park, there are currently 21 single family homes on the market listed for more than $4 million.
Included in those is the Theurer-Wrigley mansion at 2466 N. Lakeview.
We have chattered about it several times over the years and chattered about it again in February 2017 when it returned to the market…again.
See that chatter here.
If you recall, this is a special home.
It was listed on the National Register of Historic Places in 1980.
It has much of the features of a mansion built in 1896 including original cherry and mahogany wood paneling and staircases. It has crown molding and 5 fireplaces along with herringbone floors.
The main house has 9-bedrooms in 13,705 square feet. 5 of the bedrooms are on the second floor, three are on the third and one is in the lower level.
From the listing of what else the house includes:
"a grand foyer; a solarium; butler's pantry; wine bar; walk-in vault; game rooms; staff quarters; a mahogany paneled library; sprawling master suite with his and hers baths; and top floor ball room with unobstructed Lincoln Park and Lake Michigan views."
Yes, it actually has a grand ballroom.
No one is building one of those in a house anymore.
There is also a 2000 square foot coach house with 2 residential units on the 85×120 property with 5-car parking, 3 cars in a garage and 2-cars on the driveway.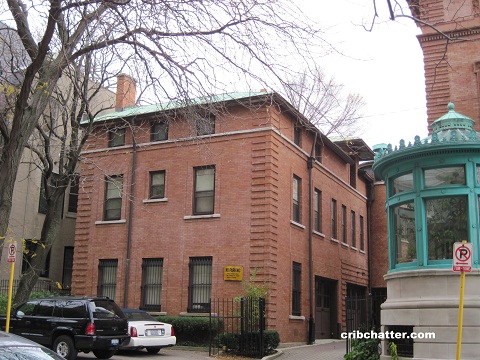 There's no central air and the kitchen, according to Crain's, needs work. There are a few pictures of it in the listing.
In February, it was listed at $7.1 million but has been reduced to $5.5 million.
With the stock market at record highs, sales of the upper bracket have been strong.
But is there simply too much inventory now? Or is Chicago's economy up to the challenge at that price point?
Anthony Disano at Parkvue Realty still has the listing. See the pictures here (be sure to check out the ballroom) as well as the floor plans, which are helpful:
2466 N. Lakeview: 9 bedrooms, 7.5 baths, 13,705 square feet in the main house, coach house with 2 apartments, 5 car parking
Sold in April 2004 for $9 million
Lis pendens foreclosure filed in May 2011
Was listed in October 2011 for $9.5 million
Withdrawn in October 2012
Was listed in November 2014 for $8.695 million
Withdrawn
Bank owned by Bank of America in September 2016
Was listed in February 2017 for $7.15 million
Reduced
Currently listed for $5.5 million
Taxes are now $150,325 (they were $145,294 in 2014 and $118,395 in 2011)
No central air- window units only
2 apartments in coach house for staff
5 fireplaces
Ballroom
Library: 16×14 (main floor)
Bedroom #1: 20×17 (second floor)
Bedroom #2: 18×12 (second floor)
Bedroom #3: 14×12 (second floor)
Bedroom #4: 20×13 (second floor)
Bedroom #5: 15×12 (second floor)
Bedroom #6: 18×13 (third floor)
Bedroom #7: 19×16 (third floor)
Bedroom #8: 11×10 (third floor)
Bedroom #9: 15×12 (lower level)