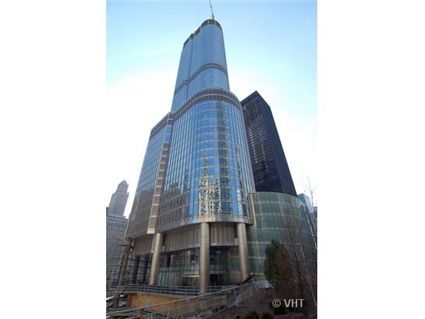 Today, the Wall Street Journal looks at the state of Trump Tower Chicago, at 401 N. Wabash in River North, and the financial implications for Donald Trump. The timing, as we've chattered about, is far from ideal for the building.
So far, Mr. Trump has lined up buyers for a bit less than $600 million of condo units and condo-hotel units in a residential market that has virtually seized up. Yet he owes lenders as much as $1 billion when the loans are due, according to public records and several people familiar with the project. He has closed around $200 million in sales so far, with roughly $380 million still in contract. The retail portion of the giant building is for sale, at a time of rising vacancies for retail space in Chicago and one of the worst eras for retailers in years.

People close to Mr. Trump concede that the project, which contains 486 condo units and more than 300 hotel rooms, is caught in a tough spot. Still, Mr. Trump says the building can be successful if he sells the rest of the unsold units, which he estimates have a potential value of $475 million.

"It could turn out to be a successful development depending on what happens in the market over the next two years," he said in an interview. "The job is on time and on budget, and it's a beautiful job and will become an icon of the Chicago skyline."
As the article points out, it is an uphill battle for Trump to sell the remaining units at these price points and with product flooding the market.
As we've chattered about before, there are thousands of new condo units expected to come on the market downtown this year and in 2009. More supply is coming on the market just as demand has fallen off a cliff.
In the article, Gail Lissner, vice president at Appraisal Research Counselors, said downtown contract signings were down 72% the first half of the year from a year earlier. She also estimates about 10,000 new condos will be coming on the market.
Flippers are also competing with Trump on price.
Adding to the project's stress, Mr. Trump is now in competition with his own customers. At least 30 buyers of the hotel units have put those rooms back on the sales market at substantial discounts to what Mr. Trump is charging for similar units, according to local sales brokers.

Local real-estate broker Andrew Glatz, of Crown Heights Realty, is representing two dozen hotel units and six condo units for resale in the Trump project. He's sold three so far.

"All our units are 30% below Trump. We can't compete with his marketing, so we compete with his prices," he says. "It's the most fabulous property in Chicago. They didn't spare any expense," he boasts.

His clients can afford to sell below Trump's prices because they bought their units in 2003, before Mr. Trump raised prices substantially.
In Chicago, Trump hits headwinds [Wall Street Journal, Oct 29, 2008]