Litigation is heating up over the financing at Trump Tower Chicago.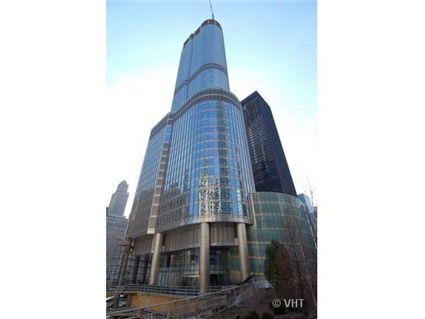 Deutsche Bank filed a $40 million lawsuit against Donald Trump on Friday in New York Supreme Court in Manhattan claiming that Mr. Trump personally guaranteed the loan.
From the Chicago Tribune:
This latest suit, filed by Deutsche in Manhattan, calls for Trump to make good on the personal payment guaranty he signed in February 2005 for the building if he didn't make the loan payments on time. The suit alleges that Trump did not pay the more than $330 million due Nov. 7, a date that had already been extended, and that on Nov. 10, Deutsche made written demands for the outstanding loan payment and the $40 million guaranty.

It also notes that in recent press articles tied to a development in Scotland, Trump was quoted as talking about the company's "very, very strong cash position." A hearing on the suit is set for Jan. 9.
This comes on the heels of Trump's lawsuit which attempts to extend the terms of the loan agreement.
Meanwhile, Trump keeps insisting that construction of the tower will be completed on schedule, within 5 months, and that the financing to complete construction will be in place by Monday or Tuesday of this week.
"We have every belief that they are going to fund either Monday night or Tuesday morning," said Trump attorney Steven Schlesinger.

"The monthly draws on the construction loan have been in the $20-million range. We were working on the documents for the draw and I think they were substantially completed Wednesday night."
The saga continues…
Trump in $40 million dispute with lender [Chicago Tribune, Nov 30, 2008]