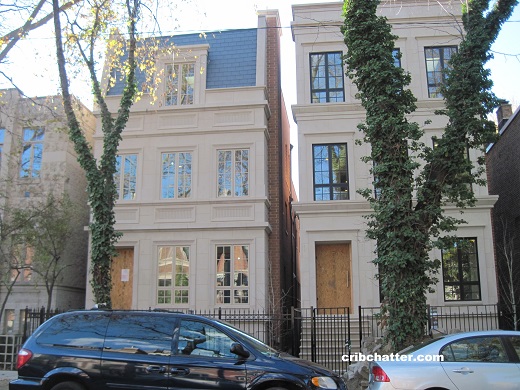 These 2 new single family homes at 2018 and 2020 N. Dayton just came on the market in Lincoln Park.
Both houses are 6-bedrooms and 5.5 baths with 5200 square feet and are being built by Foster Design.
They are being built on the standard Chicago lot of 25×125 so they only have 2.5 car garages.
The listing says it will have a Chef's grade kitchen and quarter-sawn oak floors.
The master suite will have a spa bath.
There's a top floor den with skylights and a retractable door that opens to a 35 foot lanai.
These houses are near the shops/restaurants of Armitage but are west of Halsted, which some on this blog have called not the "real" Lincoln Park.
There are 52 properties on the market, both condos and single family homes, priced between $2.5 million and $4 million in Lincoln Park. 6 are currently under contract.
This is the upper echelon of Chicago's real estate market.
How long will the good times last in this price bracket?
Daniel Glick at @Properties has both listings. You can see the pictures here (they use the same pictures for both listings.)
2018 N. Dayton and 2020 N. Dayton: 6 bedrooms, 5.5 baths, 5200 square feet, 2.5 car garage
Both currently listed at $3.45 million
Taxes are "new"
Central Air
Bedroom #1: 19×15 (second floor)
Bedroom #2: 13×12 (second floor)
Bedroom #3: 12×11 (second floor)
Bedroom #4: 19×10 (lower level)
Bedroom #5: 12×11 (lower level)
Bedroom #6: 14×10 (third floor)