We've chattered about this 3-bedroom duplex down in a Victorian storefront at 2075 N. Oakley in Bucktown several times in the last 18 months.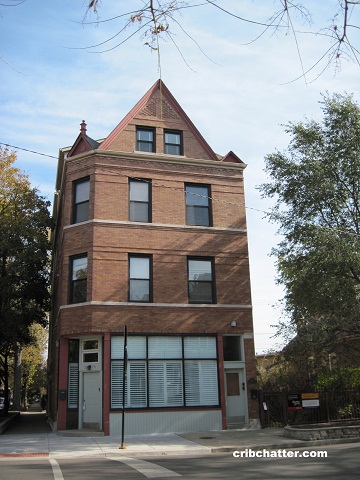 See our November 2010 chatter here.
Since our last chatter the property has been reduced another $50,000.
It is now listed $81,600 under the 2006 purchase price.
Way back in our first chatter on the property in January 2010 when it was first listed for $824,900, several of you predicted it would sell somewhere between $550,000 and $650,000.
This unique unit is located in what was a Victorian storefront and appears to still have the original tin ceiling.
The kitchen has marble counter tops and stainless steel appliances.
2 out of the 3 bedrooms are on the main floor with the third in the lower level.
There is also a lower level family room with marble floors.
The side yard is private to the unit and there is an attached garage.
Is the problem with this property that some single family homes are available in the neighborhood for about the same (or less) price?
What will this finally sell for?
Jennifer Mills at Koenig & Strey still has the listing. See the pictures here.
Or see it at the Open House this Sunday, June 26 from 11 AM to 1 PM.
Unit #1: 3 bedrooms, 3 baths, 2600 square feet, duplex down, 1 car parking
Sold in April 1999 for $320,000
Sold in January 2002 for $462,500
Sold in July 2006 for $731,500
Was listed in January 2010 for $824,900
Reduced numerous times
Was listed in November 2010 for $699,000
Reduced
Currently listed for $649,000
Assessments of $259 a month (includes cable)
Taxes of $6614
Central Air
Washer/Dryer in the unit
Bedroom #1: 11×10 (main level)
Bedroom #2: 18×12 (main level)
Bedroom #3: 14×11 (lower level)
Family room: 21×19 (lower level)