Roscoe Village Vintage 3-Bedroom Rowhouse Now Reduced $100K: 1828 W. Cornelia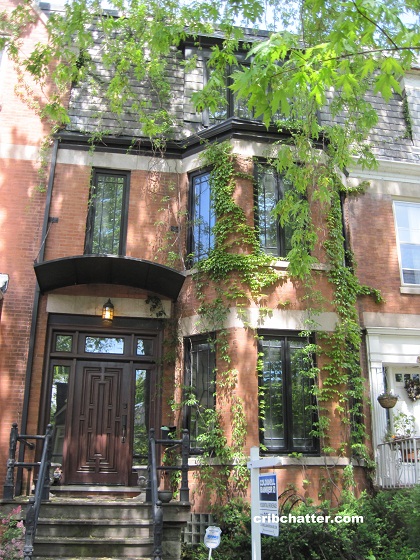 We last chattered about this vintage 3-bedroom rowhouse at 1828 W. Cornelia in Roscoe Village in May 2012.
See our prior chatter here.
The biggest bone of discussion was that most of you didn't like the mix of prairie style windows with the Victorian-era architecture.
Since our last chatter, it has been reduced another $70,000.
Built in 1894, the 2600 square foot rowhouse has three stories and an unfinished basement.
It is on a 20×120 lot, which is bigger than those on Alta Vista, for instance, and allows for a 2-car garage plus backyards.
This rowhouse has both a lower deck off the kitchen/breakfast room and an upper deck off the master suite.
The third floor contains the master suite which also has 6 skylights.
The kitchen has granite counter tops and stainless steel appliances.
The listing says the rowhouse was updated in 2002/2003.
The Brown line El tracks are a few doors to the east.
How much lower will this have to go before someone bites?
Theodore Krug at Coldwell Banker still has the listing. See the pictures here.
You can also see it in person at the Open House this Sunday, September 16: 12- 2PM.
1828 W. Cornelia: 3 bedrooms, 2.5 baths, 2600 square feet, 2 car garage
Prior sale was before 2002 (no price listed- looks like long term owner)
Originally listed in February 2012 for $749,900
Reduced
Was listed in May 2012 at $719,000
Reduced
Currently listed at $649,000
Taxes of $7849
Central Air
Unfinished basement
Bedroom #1: 16×12 (third floor)
Bedroom #2: 17×14 (second floor)
Bedroom #3: 14×12 (second floor)
Den: 11×11 (second floor)
Laundry room: 8×7 (second floor)