How Much Are Prices Really Rising? A 3-Bedroom At 508 W. Melrose In Lakeview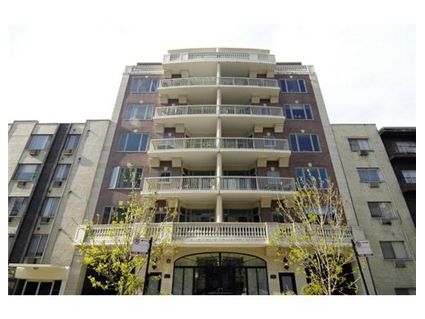 This 3-bedroom at 508 W. Melrose in East Lakeview came on the market in early February 2013.
Some long time readers might recognize this building as we chattered about it several times in 2008 when distress sales were happening in the building.
Built in 2004, the units were originally sold at the height of the boom.
It has 22 units and an elevator.
This unit has a back deck with views of Wrigley Field.
It has a master suite, central air and washer/dryer in the unit.
The kitchen is a "chef's kitchen" with granite counter tops and stainless steel appliances.
The unit has a 1-car garage with an option for a second spot.
This unit was originally listed on February 2 for $549,000 and then withdrawn two days later and re-listed for $575,000.
That is just $33,000 under the 2006 purchase price.
With the hotter market, will this unit get the higher price?
Laura Renaldo at TRD Property Group has the listing. See the pictures here.
Unit #6B: 3 bedrooms, 2 baths, 1732 square feet
Sold in February 2006 for $609,000 (per Zillow- for some reason the ccrd couldn't find the property)
Sold in July 2008 for $485,000 (per Zillow)
Originally listed on February 2, 2013 for $549,900
Withdrawn on February 4
Re-listed February 11, 2013 for $575,000
Assessments of $400 a month
Taxes of $6452
Central Air
Washer/Dryer in the unit
Garage parking included (option for second space)
Bedroom #1: 18×13
Bedroom #2: 15×12
Bedroom #3: 13×9