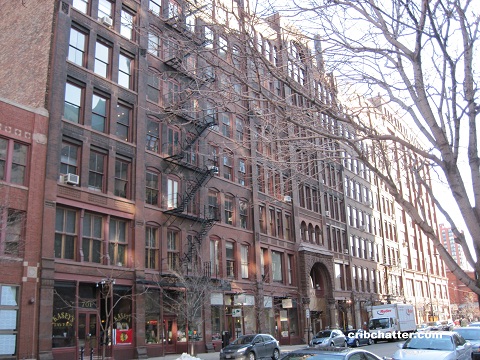 This 3-bedroom triplex loft in the Donohue Building Lofts at 711 S. Dearborn in Printers Row just came on the market.
This is one of the most popular loft buildings in the city. I know many of you love it. If you haven't been in it, be sure to check out some of the unique lofts in the annual South Loop loft walk (are they still doing that???).
Built in 1883, it was the first building converted into residential lofts in Printers Row in the 1980s.
This particular unit is one of the more unique ones I've seen in the building.
The listing says it is 3 one-bedroom units stacked on top of each other and connected with an internal staircase.
The top floor of the triplex is the top floor of the building so even though it has timber ceilings, there is no one above you and only your unit below you on the other two floors.
It has exposed brick on each floor and arched windows on the top floor.
The loft actually faces east so it does NOT face Dearborn.
It also has some quirks like 2 kitchens.
The main kitchen has maple cabinets and black appliances while a smaller white kitchen is on the lowest level.
At 2450 square feet, there is a library on the second floor and a 8×8 laundry room.
The loft has central air.
There's no parking with this building but it's available for purchase in the nearby high rise on Plymouth for $35,000.
Curbed Chicago covered this loft a few days ago and said it was bank owned.
I don't find any indication in the public records that it is owned by the bank.
In fact, the owner appears to be one of the original owners as the last purchase was made before 1985.
That means it's been nearly 30 years since this unit changed hands.
At $500,000, is this loft a deal for the size and location?
(And if anyone can figure out the layout- i.e. where the bedrooms are actually located – please share.)
Margie Smigel at The Margie Smigel Group has the listing. See the pictures here.
Unit #808: 3 bedrooms, 2.5 baths, 2420 square feet
Sold before 1985
Currently listed for $500,000
Assessments of $1336 a month (includes heat and cable)
Taxes of $7285
Central Air
Washer/Dryer in the unit
Parking available for $35,000 extra nearby
Bedroom #1: 16×16 (third floor)
Bedroom #2: 14×15 (second floor)
Bedroom #3: 14×15 (second floor)
Living room: 15×30 (main floor???)
Dining room: 14×16 (main floor???)
Laundry room: 8×8 (second floor)
Library: 15×15 (second floor)