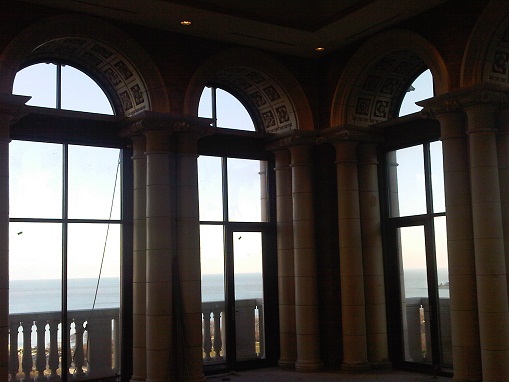 We've chattered about this 6400 square foot penthouse apartment in the Park Millennium Condos at 6 N. Michigan across from Millennium Park in the Loop several times over the past year.
It was owned by the developer and in late December 2012 it finally sold for just $1.9 million.
Originally listed for $4.5 million, I asked if it was the "deal of the year" given the space and the location.
See our January 2013 chatter here.
If you recall, the space was unfinished but it had that spectacular, original great room with its wall of windows overlooking the park and lake. (see the picture above- which doesn't even do it justice.)
We all wondered what would become of the space.
Wonder no more.
After a complete build out, the 4-bedroom penthouse can now be yours for $4.75 million.
The unit has four levels of living.
Three of the four bedrooms are on the second floor with the master bedroom on the third level.
There appears to be two family rooms with one of them located near the kitchen/dining room and another on the fourth floor with a massive skylight.
This doesn't even include the massive great room.
The kitchen has white cabinets, luxury stainless steel appliances and stone counter tops.
It also has 2000 square foot of outdoor space, which is essentially the roof deck. From the listing pictures, it appears nothing was done to build that out. There is no landscaping etc.
It comes with 2 parking spaces and heat and air conditioning are included in the $6200 a month assessment.
With two high floor condos recently sold to make one big unit just down the street in the Legacy for $5 million, and very few true penthouses with views on the market, will this rehabber make a bundle?
Colin Hebson at Dream Town Realty has the listing. See the pictures of that beautiful great room and the rest of the unit here.
Unit #1901: 4 bedrooms, 4.5 baths, 6400 square feet, 4 levels
Originally listed in 2010 for $7 million (but was 8000 square feet)
Was listed as raw space in July 2012 for $4.5 million
Reduced
Was listed in October 2012 for $3 million
Sold in December 2012 for $1.9 million
Now re-listed after it was built out for $4.75 million
Assessments of $6200 a month (includes heat, a/c, doorman)
Taxes are $13,233. There is an 8 year historic tax freeze on the building but I believe it doesn't transfer to the second owner. Only the current owner – or the first one after the developer- gets the tax freeze.
2 car parking included
2000 square feet of outdoor space
Bedroom #1: 23×18 (third floor)
Bedroom #2: 18×12 (second floor)
Bedroom #3: 19×15 (second floor)
Bedroom #4: 16×15 (second floor)
Family room: 28×20 (fourth floor- with a skylight)
Great room: 35×34