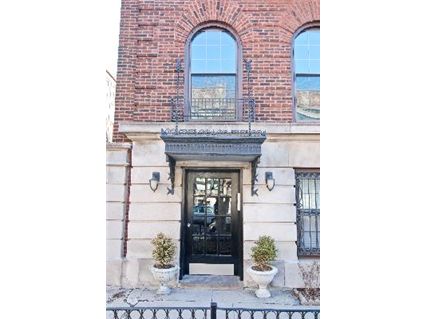 This 5-bedroom top floor vintage unit at 443 W. Aldine in East Lakeview recently came on the market.
If it looks familiar, that's because it was actually on the market for most of 2014 without selling.
It is a full floor unit in a 4-unit elevator building that was renovated into luxury condos in 2010-2011.
The kitchen has wood cabinets with commercial grade stainless steel appliances, granite counter tops and a kitchen island.
The baths are Carrera marble.
There's a wood burning fireplace and crown molding along with modern features like central air and in-unit washer/dryer.
At 3600 square feet, it's as big as some single family homes.
Being on the top floor it also has roof rights but nothing is built up there yet. The listing simply shows some renderings.
It has a 1-car garage plus one outdoor parking space.
Unit #2 in this building "sold before print" in June 2015 for $1.335 million.
This unit tried to get as much as $1.795 million in April 2014 but has come back on the market at $1.549 million.
We last chattered about this building in 2011 when it was just converted and many of you thought the prices being paid back then (around $1.4 million) were insane. See our chatter here.
That was 4 years ago. Prices have since moved even higher.
Will they get this even higher list price?
Steven Acoba at Keller Williams has the listing. See the pictures here.
Unit #4: 5 bedrooms, 3 baths, 3600 square feet, top floor
Sold in February 2011 for $1.45 million (although I can't find it in the public records- but this is what was on Cribchatter in 2011)
Originally listed in April 2014 for $1.795 million
Reduced
Withdrawn in February 2015 for $1.495 million
Re-listed in December 2015 for $1.549 million
Assessments of $462 a month (includes parking, exterior maintenance, scavenger, snow removal)
Taxes of $18091
Central Air
Washer/Dryer in the unit
1-car garage parking and 1 outdoor parking space
Wood burning fireplace
Bedroom #1: 14×19
Bedroom #2: 14×14
Bedroom #3: 14×13
Bedroom #4: 14×13
Bedroom #5: 15×19
Gallery: 4×45