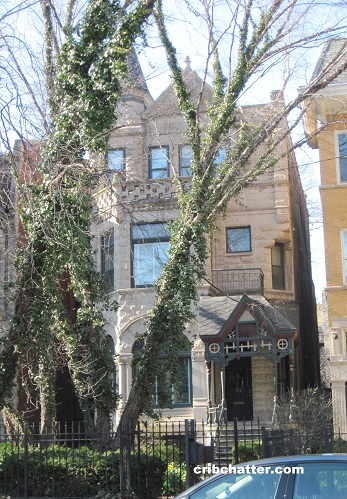 This 6-bedroom vintage Greystone at 538 W. Deming in Lincoln Park came on the market in February 2016.
This home is smack in the middle of the Arlington-Deming Landmark District.
Built in 1883 on an oversized 27×190 lot, when it was built this wasn't even part of the city of Chicago. Instead, it was in the Township of Lake View, which stretched from Fullerton all the way north to Devon.
Here's some more background from the Landmark Commission about how this neighborhood developed thanks, in part, to the Chicago Fire:
These building regulations, besides determining the type of construction allowed within Chicago city limits, also encouraged the development of new neighborhoods just outside Chicago, including the Arlington-Deming District, where property owners built new housing using more affordable wood-frame construction. (As a suburban town, Lake View was initially not subject to City building code requirements which prohibited frame construction in Chicago after the Fire of 1871.) The district's earliest buildings—small-scale frame cottages and houses—most likely were built during the years of suburban development following the 1871 Fire and are important for their historic associations to the District's earliest years of development. These include, among others, the cottage at 2454 N. Orchard St. and the house at 2466 N. Orchard St.

During the 1880s, and extending into the early 1890s, residential development on the southern edge of Lake View Township was encouraged first by the extension of city mass transit services into the suburb, then by the annexation of Lake View itself into the City of Chicago in 1889. During this period, the Arlington-Deming District began to develop as a somewhat more densely-populated residential neighborhood. Again, its adjacency to Chicago's northern border proved a lure for residents wanting suburban-style living close to the City. In 1887 the Town of Lake View was incorporated as a city, electing its own mayor and city council. Two years later, in 1889, Lake View was annexed to the City of Chicago.
This house still has its original leaded windows and at least one stained glass window.
It has high ceilings you find in vintage homes of this era but no crown molding (maybe a renovation along the way?).
It has 2 wood burning fireplaces and an English garden apartment, with 2 bedrooms.
The main house has 4 bedrooms, including three on the third floor.
The kitchen has white cabinets, white appliances and stone counter tops.
It has central air, a 2-car garage and modern floor to ceiling windows overlooking the wooded backyard.
This home has been under the same owners since at least 1987.
This is a rare opportunity to buy a vintage home with all the bells and whistles in a coveted East Lincoln Park location.
Does it still appeal to today's buyers who all seem to want open concept?
Natasha Motev at Berkshire Hathaway KoenigRubloff has the listing. See the pictures here.
538 W. Deming Place: 6 bedrooms, 4.5 baths, no square footage listed
There's no prior sales price. In the same family since 1987.
Was listed briefly in 2009-2010– withdrawn
Originally listed in February 2016 for $2.295 million
Currently still listed at $2.295 million
Taxes of $22,258
2 wood burning fireplaces
2-bedroom English Garden apartment – included in the bedroom count
2 car garage
Central Air
Bedroom #1: 11×21 (second floor)
Bedroom #2: 21×15 (third floor)
Bedroom #3: 16×14 (third floor)
Bedroom #4: 8×16 (third floor)
Bedroom #5- in the garden apartment: 15×15
Bedroom #6- in the garden apartment: 11×13