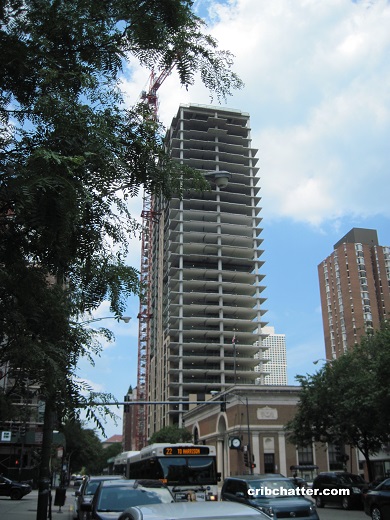 It seems that several times a month there are announcements for new apartment buildings all over the Green Zone, and sometimes, even outside of the Green Zone.
Last week, Lennar announced yet another new building, this time in River North.
The bulging pipeline of new apartments in River North is swelling a little bit more.

Lennar plans a 180-unit project on a site it's buying at 675 N. Wells St., according to a marketing flier for the development's retail space and people familiar with Lennar's plans.

The Miami-based builder is stepping into a development hot spot, pouncing on a site with nearly 1,000 apartments under construction within a two-block radius. Just to the south, Magellan Development Group is building a 450-unit tower set to open next year.

The downtown apartment market is the strongest it has been in decades— rents hit another high in the first quarter—but surging supply could test that strength in the next few years. Developers will complete 4,000 downtown apartments this year and another 4,400 in 2017, according to Appraisal Research Counselors, a Chicago-based consulting firm.
The developers keep insisting that all is well in the apartment leasing market and that there isn't over supply.
Here are two of the other apartment buildings going up on the same block that Lennar will be building on.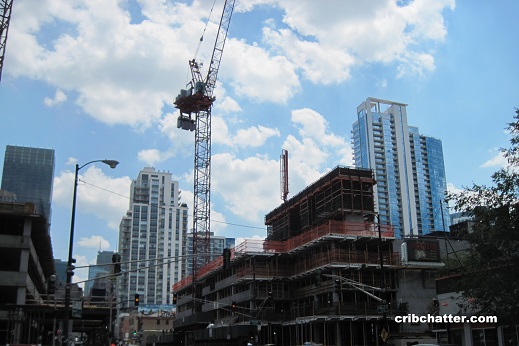 Chicago developer Jim Letchinger, of JDL Development, is building luxury condos as well as apartment high rises.
He just announced a proposal for a new 94-unit condo building in the West Loop at Jefferson and Fulton where 2-bedroom units will start at $800,000.
JDL is one of the few downtown residential developers building condos these days. Developers completed just 191 condos and town homes in downtown Chicago in 2015 and are expected to complete 120 this year, according to Appraisal Research Counselors, a Chicago-based consulting firm. Before the condo market crashed, developers easily added more than 2,000 units to the downtown market every year.

The residential market has flipped over since then: After completing nearly 2,600 downtown apartments last year, developers are on pace to add 4,000 this year and 4,400 in 2017, according to Appraisal Research. Before 2008, they rarely built 1,000 units a year.

If an apartment glut is on the horizon, Letchinger isn't seeing it yet. Leasing began in March at his South Loop project, and the building is almost 50 percent leased—such a fast pace "I can't believe it," he said.
We heard similar statements from condo developers in 2007, just before the market went bust.
A mid-rise at 707 N. Wells called The Hensley, has already completed construction. It's the building in the middle in this picture below.
That's another new apartment high rise going up just next to and behind it. It is replacing the old Howard Johnson motel.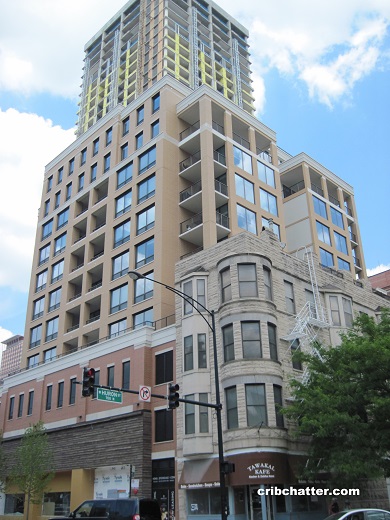 It's marketing slogan is:
"Because you've waited long enough"
A quick look at the prices comes up with these:
A 4th floor 1-bedroom with 824 square feet for $2700 a month
A 5th floor 2/2 with 959 square feet for $3350 a month
A 5th floor 2/2 with 1027 square feet for $3690 a month
While no one is moaning the loss of surface parking lots in the western portion of River North, just who is actually renting in all of these buildings?
Are developers building too late in the economic cycle?
Or is the job market hot enough that all these luxury apartments will be absorbed?
Lennar adds another 180 apartments to River North building boom [Crain's Chicago Business, Alby Gallun, June 15, 2016]
27-story condo tower planned for West Loop [Crain's Chicago Business, Alby Gallun, June 15, 2016]
The Hensley (website)